Freddie B. Pough
Executive Director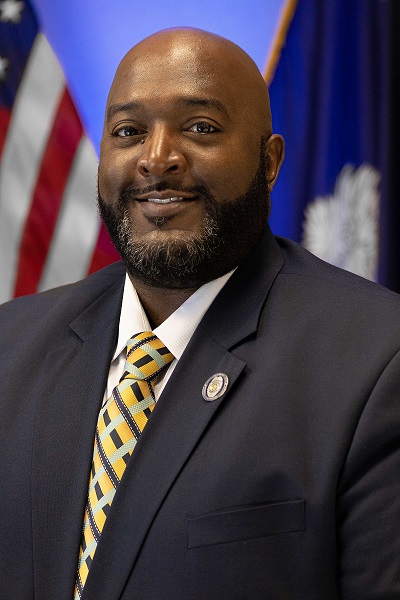 South Carolina Department of Juvenile Justice Director, Freddie B. Pough is a proud native of Swansea, South Carolina. He completed his academic and athletic career at South Carolina State University -- graduating with a Bachelor of Science degree in Criminal Justice, as a four-year lettered athlete in 1999. Before returning to the foundation of his rewarding law enforcement career, DJJ, in March of 2016 as the Inspector General; Director Pough served the citizens of South Carolina as probation, pardon and parole agent; a patrol officer; and as a lieutenant with the South Carolina Law Enforcement Division (SLED).
In the fall of 2000, Director Pough seized the opportunity to fulfill his calling and began working for the Department of Juvenile Justice (DJJ) as a juvenile correctional officer. Today, now 18 years later, he is regarded as an expert in the field of interviewing and interrogation, marksmanship, investigations, and search and seizure. He is a certified class one police officer with the South Carolina Criminal Justice Academy and professionally certified as a detective, school resource officer, probation, pardon, and parole agent and a juvenile justice correctional officer.
Director Pough's commitment to empowering South Carolina's youth for the future exudes from the very essence of the work he is doing at the state's only Department of Juvenile Justice. Director Pough often reflects on his personal mission of utilizing each day to bring forth improvements to the law enforcement system—by striving to reduce recidivism and improving clinical and vocational outcomes. Director Pough understands that the continuum of care is a never-ending cycle that requires everyone's involvement to achieve the maximum level of measurable results.
Under the leadership of Director Pough, the Department of Juvenile Justice is striving to have a developmentally appropriate and deliberate approach to working with our youth, their families and other supportive adults as we develop a holistic reintegration plan that will assist them in establishing successful and sustainable lives. The Agency will achieve this goal by continuing the rehabilitative services approach and executing a robust integration division that encompasses transitional housing, data matrixes, and policy enhancements.
Director Pough has proven himself to be an innovative, consistent leader who is empowering nearly 1,500 employees every day to provide superior service to our youth, victims, families and the entire state of South Carolina.
Agency Enhancements
Regionalization
The South Carolina Department of Juvenile Justice (DJJ) Regionalization Initiative represents a fundamental shift in how committed youth will be served by South Carolina's juvenile correctional system. Regionalization will allow committed youth to be housed in smaller facilities closer to their home communities instead of residing in a centralized, distant state facility. Regionalization will bring neighboring counties together to share resources and services to better serve committed youth. Additional advantages of smaller, regional facilities for committed youth include: increased family engagement; increased safety for youth and staff; enhanced transitional programming; projected lowered recidivism rates; and increased access to vocational programs and apprenticeships for appropriate-aged youth.
DJJ currently has one central long-term commitment facility located in the Midlands and three regional Evaluation Centers located in Union, Ridgeville, and Columbia, SC. The current central
long-term care facility, called the Broad River Road Complex (BRRC), houses long-term committed youth. The average length of stay at BRRC is 124 days for youth with a determinate commitment and 387 days for youth with an indeterminate commitment.
DJJ's three regional evaluation facilities house youth, up to 45 days, who are awaiting a clinical evaluation and/or family court disposition/sentencing.
DJJ's proposed regionalization plan will create one centralized evaluation center for youth in Columbia at the current Midlands Evaluation Center. BRRC and the two remaining evaluation centers in Ridgeville and Union will be re-purposed as DJJ's long-term regional facilities. The new regional facilities will house a smaller number of committed youth and will assist in strengthening the juvenile's connection to their family and the community.
SCDJJ Data Warehouse- The Data and Information Hub
The South Carolina Department of Juvenile Justice (SCDJJ), at the request and under the leadership of Director Pough, has begun transitioning its data and information from a static paper format to a real-time electronic format. The SCDJJ Data and Information Hub provides a central location from which all the data and information that is collected, from every division, office, and program area, is viewed, assessed, shared and reported. With the creation of this Data and Information Hub, SCDJJ finally has an Agency Data Warehouse. Any staff member or stakeholder needing data for a report the Agency can produce it from the Data and Information Hub. Director Pough has at his fingertips a Data Spotlight that highlights our most pertinent data points and information-- giving him the ability to quickly and directly respond to requests. The benefits of our Data and Information Hub includes eliminating redundancy, and increasing efficiency. The Data and Information Hub will serve as SCDJJ's comprehensive data and information resource. Director Pough has begun initiating phase two, which will launch the Sumer of 2019, and provide the public with access to the SCDJJ Data Warehouse.
Automated Event Reporting System
The South Carolina Department of Juvenile Justice, at the request and under the leadership of Director Pough, has automated their Event Reporting System. This is the first time in the Agency's history that this process has been automated. This system is comprised of a database containing information on events occurring within any location associated with SCDJJ, including facilities, county offices, group homes, contract facilities, and administrative offices.
4th Generation Risk and Needs Assessment
DJJ worked with a national consultant on upgrading the agency's risk and needs assessment tool. Under Director Pough's leadership and tenacity, DJJ created a 4th generation Risk and Needs Assessment (RANA) that measures both static risk factors and dynamic risk factors (also known as criminogenic needs). To test the upgraded assessment, an extensive research study was conducted on a random sample of over 600 DJJ youth to test the validity and reliability of the RANA in predicting recidivism and in assessing for risks and needs for DJJ youth.
That study included collecting data from the Department of Mental Health, Department of Education, DSS, and SLED (adult arrest data). Based on this study, DJJ modified the risk and needs factors to more accurately predict risks and needs for youth, which improves targeted services to reduce the juvenile's risk to re-offend.
The new assessment meets the U.S. Department of Justice, Office of Juvenile Justice and Delinquency Prevention's recommendations for risk and needs assessments, and provides DJJ staff, Solicitors' Offices and Family Courts with accurate and reliable information on the juvenile's risks and needs. This new information enables DJJ to effectively target its most intensive offenders and provide services to youth that present the greatest risk to re-offend, reducing recidivism.
After the study was complete, DJJ began piloting the new system in February 2018 in multiple county offices to ensure its accuracy. Today, the 4th Generation RANA is fully implemented at DJJ and being used statewide.
Workforce Development
Realizing today's employers require a workforce with more than just a healthy body and a willingness to work hard, Director Pough has enhanced a number of DJJ programs aimed at providing youth the substantial "hard skills" job training needed to succeed in construction, carpentry, welding, paint and body, auto technology and other trades. In addition, Director Pough continues to support job training classes designed to help our youth learn "soft skills" basics. DJJ offers youth classes such as "How to Dress for Interviews" and "Workplace Conduct." While "hard skills" are a vital part of preparing students for today's more technically demanding jobs, it is often the "soft skills" that will ensure our youth can compete in the marketplace.
Director Pough has displayed dedication, leadership, and innovative thinking by fostering community and business partnerships. This commitment is especially evident by the agency's dramatic expansion of job training programs, in partnership with many businesses and volunteers to include Boeing, Founders Federal Credit Union, Claflin University, Clemson University, Coastal Carolina University, the Correctional Peace Officers Foundation (CPOA), and Epworth Children's Home. Other partners include Ace Hardware, CVS Pharmacy, Food Lion, the Greenville County Recreational Department, the Greenville Health and Humane Society, IGA Grocery, Piggly Wiggly, Urban League of the Upstate and the YMCA. In total, over 100 businesses and community partners have provided internships for DJJ youth in the Job Readiness Training Program alone.